---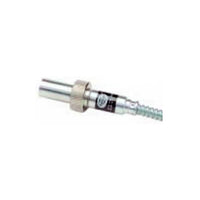 1/2" NPT Straight UV Scanner, 6 Ft Flex Conduit with Insulated Nylon Coupling.
Non-Self Check MB-Series Ultra-Violet Scanner with 1/2" NPT Mount

The MB-series modules provide visual indication and electrical output that signal the user regarding flame presence in a combustion chamber. The module uses Fireye optical ultra-violet scanners and/or flame rod to sense flame presence independently or as components in a burner management system.