---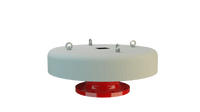 weather hood with protection screen protects the PROTEGO®

 

flame arrester unit against environmental impact, such as nesting animals and weather conditions
available for DN 50/2"- bis DN 800/32"- pipes
trouble-free maintenance
advanced design for higher operating temperatures
provides protection against atmospheric deflagrations
low operating and lifecycle costs
cost-effective flame arrester
cost-effective spare parts
Function and Description
The PROTEGO® LH/AD end-of-line deflagration flame arrester provides protection against flame transmission through atmospheric deflagration. The device is typically installed on vent lines of vessels and plant equipment which are not pressurized. For safe application, it is important that an endurance burning situation can be excluded. So typically, it is installed on vent lines which discharge vapor for a short time period. The device prevents flame transmission from atmospheric deflagration into the vessel or plant.
The PROTEGO® LH/AD consists of the housing (1), a weather hood (2), and the PROTEGO® flame arrester unit (3). The device is equipped with a metal weather hood. A protection screen is installed between the weather hood and the housing to keep out animals and foreign bodies. The FLAMEFILTER® (4) gap size depends on the device's intended use. Specifying the operating conditions, such as the temperature, explosion group and the composition of the fluid, enables PROTEGO® to select the best end-of-line deflagration flame arrester for your application.
The PROTEGO® LH/AD series end-of-line deflagration flame arrester is available for substances from explosion groups IIA to IIC (NEC groups D to B). Special certifications for carbon disulfide are available.
The standard design can be used with an operating temperature of up to +60°C / 140°F. Devices with special approval for higher temperatures are available upon request.
Type-approved in accordance with the current ATEX Directive and EN ISO 16852, as well as other international standards.