---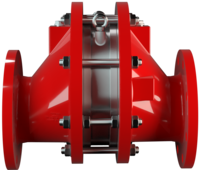 eccentric design prevents condensate build up
special design for elevated operating temperatures and pressures available
modular design enables each individual FLAMEFILTER®

 

to be replaced
service friendly: FLAMEFILTER®

 

can be cleaned easily
eccentric design eases installation close to floors and walls
bi-directional flame transmission proof design
protects against deflagrations for all explosion groups IIA, IIB3 and IIC (NEC groups D, C and B)
modular design reduces spare parts cost
Function and Description
The PROTEGO® FA-E series of in-line deflagration flame arresters is designed with an eccentric housing to automatically drain condensate build up in the housing. Due to its eccentric design, the device can be installed in pipelines that run close to floors or walls and low points to prevent the build-up of condensate. When installing the deflagration flame arrester, make sure that the distance between potential ignition sources and the location of the installed device does not exceed the L/D ratio (pipe length/pipe diameter) for which the device was approved. According to EN ISO 16852, the installation limits are (L/D)max ≤ 50 for deflagration flame arresters of explosion groups IIA and IIB3 (NEC groups D to C) and (L/D)max ≤ 30 for explosion group IIC (NEC group B).
The devices are symmetrical and offer bi-directional flame transmission protection. The arrester essentially consists of two housing parts (1) and a PROTEGO® flame arrester unit (2) in the center. The PROTEGO® flame arrester unit is modular and consists of several FLAMEFILTER® discs (3) and spacers firmly held in a FLAMEFILTER® casing. The number of FLAMEFILTER® and their gap size depends on the device's intended use.
Specifying the operating conditions, such as the temperature, pressure, explosion group, and the composition of the fluid, enables PROTEGO® to select the best deflagration flame arrester for your application. The PROTEGO® FA-E series of deflagration flame arresters is available for substances from explosion groups IIA to IIC (NEC groups D to B).
The standard design can be used at an operating temperature of up to +60°C / 140°F and an absolute operating pressure up to 1.1 bar / 15.9 psi. Devices with special approval for higher pressures (see table 3) and higher temperatures are available upon request.
Type-approved in accordance with the current ATEX Directive and EN ISO 16852, as well as other international standards.