---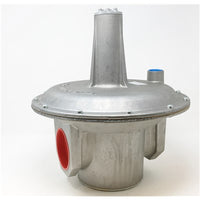 Non Lock-Up 1# Max Maxitrol Silver Spring 3-6"WC (17,000,000 BTU)
WE HAVE THIS IN STOCK.
All models except RV131 are CSA design certified for 1/2 psi rated pressure under the ANSI standard for gas pressure regulators; and CSA listed to certify compliance with nationally published safety, construction, and performance standards.

They are main burner only, non-lockup type. They should not be used as a line gas pressure regulator ahead of low pressure controls. Use only where downstream controls can operate at line pressure. Refer to other Maxitrol sales bulletins for proper types. The RV52, RV53, & RV61 are suitable for multipurpose mounting. The RV81, RV91, RV111, & RV131 are recommended for normal horizontal position only.