---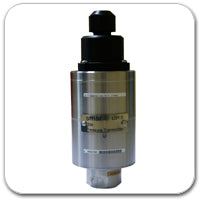 M4 Transmitter
Applications:
Industrial Processes Measuring and Control
Hydraulic and Pneumatic Systems
Pumps and Compressors
Cutting Machines and Tools
Polyethylene Production Plants
Description:
The SMAR LD1.0 capacitive economical pressure transmitter was designed for measuring gauge and absolute pressure of liquids, gases and vapors on many industrial applications. This low cost transmitter is the only one in the category that uses capacitive cell technology as pressure sensor to read pressure in an entirely digital way. As a high reliability and robustness sensor, it is employed in more than 80 percent of high performance pressure measuring all over the world, for its excellent accuracy, repeatability and linearity. The LD1.0 Pressure Transmitter production and mounting features provide resistance to vibration, shock, large temperature variations, immunity to electromagnetic interference and other typical extreme environment conditions of industrial applications.

The transmitter high performance, reliability and long durability are ensured by the use of fine materials like 17-4PH and AISI 316L in its housing, which is tightly welded to the measuring cell and eliminates the need for an O´ring. The optional use of Hastelloy C276 in all wet parts makes possible using this transmitter in multiple processes containing corrosive salts and acids. The model with sealed connection to the process permits using the LD1.0 in clogging processes with solid suspension.

The LD1.0 provides several measuring ranges up to 150 bar with a URL accuracy of ± 0,2%, DIN 43650 electric connection with 2-wire 24 Vdc and built-in transient protector, with no additional cost. Many connection options are available. The transmitter output signal is a 4 to 20 mA current, which provides diagnostics for failure and saturation current in compliance with NAMUR NE43 standard.

The LD1.0 uses HART V5 protocol with EDDL resources for remote communication and can be used for configuring and monitoring variables. Thus, through a HART configurer like the SMAR HPC401, CONF401 or 20 mA tools, the following actions can be taken: configure measuring units, alter the 4-20 mA measuring limits, adjust zero and span with or without reference, simulate the output current, adjust damping, monitor up to four HART variables like PV, PV percent, temperature, current output, etc.

Besides executing remote configuration, it is also possible to caliper zero and span with applied pressure through local adjustment, by using a magnetic tool on a HALL sensor.