---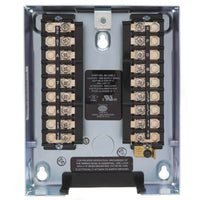 Open Wiring Base for Cabinet Mount
The Flame-Monitor Series provides the proper burner sequencing, ignition and flame monitoring protection on automatically ignited oil, gas and combination fuel burners. On a safety shutdown, the display module will advise the operator that the control is in "Lockout" and indicate the cause as well as the position in the operating sequence that it occurred.

Interchangeable programmer and flame amplifier modules allow complete versatility in selecting control function. The Flame-Monitor control uses the same wiring base as the Fireye D-Series and C-Series Controls and is directly interchangeable with most models without rewiring.

The Flame-Monitor control can be used with ultraviolet, AUTOCHECK infrared, photocell, flame rod or self-check ultraviolet flame scanners by choosing the proper amplifier module. Special features include: remote reset, remote display, expanded annunciation of safety lockouts, programmability of safety interlock messages, and remote data communications capability. A 220 volt version of the E110 control is also available without any agency approvals. (P/N E120).